Beschreibung
Omron AOI S720-A
Bj 2014
Best Quality at the Minimum Q Cost!
The VT-S720 is a new concept in AOI. With a revolutionary inspection system, it greatly reduces "inspection costs" that have plagued AOI for some time.
Moreover, by providing content for improving quality, it bolsters and upgrades "defect prevention." The end result is an industry-first approach to helping users to slash "failure costs" and "optimize their investment in quality."
Reduction in inspection costs
Direct inspection of "fillet features"
Soldering reliability is determined by fillet shape.
The VT-S720 uses new image processing technology to automatically sample fillet topological features. (Patent Pending)

Manufacturing that begins with quality
Pass level definition
Features of passing products are input into the inspection machine as required quality levels. (Patent Pending)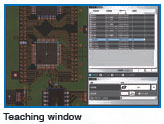 Process monitoring
Constant monitoring of production makes it possible to spot inspection troubles instantly, giving users a system optimized for improving both productivity and quality.
Passing product ascertainment
Inconsistency monitoring
The VT-S720 absorbs inconsistencies in order to stabilize mass-production.

Reduced noise impact
Parameters have been optimally set to pick up gradations unperceived by humans, and automatically separate good from bad products.
AOI Inspection Coverage Expansion
Oblique cameras
The camera array captures features that cannot be seen square on.